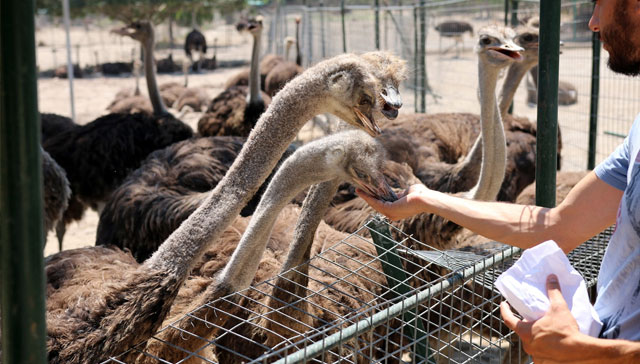 A day in a farm: How an animal Farm operates
How an animal farm operates
Working in a farm can be fascinating and fulfilling, yet it takes a lot of work to manage and sustain it. Animals need constant care and interaction to grow and be joyful. If you ever been to a petting zoo, then you have probably wondered what does it take to make a farm up and running? When does the feeding of the animals taking place? Is the place cleaned daily? When does harvesting happen? How our equipment and facilities maintained?
Our daily schedule 
---
Animals
In Farma of Rhodes each and every one of our employees tend to the animals 24/7 for 365 days/year. Most of our animals require different climate conditions to thrive, but thankfully in Rhodes, we do not experience temperature fluctuations. During the winter we have a mild decrease that is not lower than 10 degrees Celsius, so we care for them in the farm, instead of moving them elsewhere.
Do not think that your treats are replacing their food! That would be cruel and unorthodox for us that are giving 100% of our efforts to protect and love to the animals. We actually feed them twice per day, every morning at 08.00- 09.00 and in the afternoon at 15.00- 16.00.

Cleaning
The spaces where animals are kept are thoroughly cleaned of stale food and dirt. Their bowl waters are washed and filled with clean water numerous times within the day. We, also, pick up litter from the area where the visitors wander. Of course, all the facilities used by our visitors (restrooms, restaurant) are disinfected multiple times, so we can ensure your safety.

Maintenance
We have experienced co-workers that are dedicated to maintaining the fences, the farm buildings, the restaurant and more. These repairs and improvements need to be regularly scheduled, in order to protect the animals and your families as well.  We do the same thing, by pruning the overgrown trees and cutting out the weeds that make the areas of the park inaccessible.
Harvest
Our farm has garden plots, where we have planted crops such as tomatoes, zucchini, cucumbers and more. These are harvested regularly and are used in our unique recipes in the restaurant. Hence, we manage to offer you the freshest and healthiest ingredients that are beneficial for your diet.
Farma of Rhodes petting zoo is dependent on teamwork and has very competent, reliable and workaholic co-workers. It takes passionate personnel to be able incorporate physical labor and patience to deal with animals, children and doing farm work all day long. What is certain, is you will be able to interact with wonderful healthy and happy animals that will be joyful to meet all of you!